10-18-16
Well, the Seed is Planted! The Patch is in a tumult, and all the Poisonous Pumpkins are gleefully rolling (and bouncing, and doing that creepy vine-crawly-thing-they-do-to-get-around) toward their "Halloween Special's" creation!
You should see "The Lab" they put together in the rotting old Greenhouse, out yonder. It's really something. ( -- But, um, don't go in there by yourself, ever.) The Lightning Tower is working perfectly, the -- Whatever-It-Is -- that's bubbling away in the Cauldron is oozing through the Irrigation Tubes (best not to ask), and, as the wind softly moans through the broken Greenhouse panes, and the night's cricketsong blends with the dying day's last rasping crows --
SOMETHING -- is coming together on a Hay Bale Slab under a flickering lantern...,
SOMETHING our Brave and Perspicacious First Backers have already starting adding The Bits & Pieces to... heh...
Meanwhile, Ol' Splitskin is bossing everybody around, Little Badger can't be found (anywhere), and Cyrano is off somewhere among the corn stalks composing some -or-other new creepy verse...
But the rest of the Poisonous Pumpkins are busily at work, vines flailing everywhere, wicked little eyes glowing very brightly, all eager to create A NEW HALLOWEEN TREAT, and they will be at it day and night (well, mostly night) until they bring their creation to life...! (cue THUNDER!) There's no stopping 'em once they've gotten started. And you know how Gourdo always like to stir the pot.
A big, wet, pumpkin-pulpy THANKS to our First Backers on our First Indiegogo Campaign's First Week's First Day! (We hear crickets so often around here we were fully expecting them on Launch...)
We'll be updating "The Ripening" as we go along... Will You be our Next Peal of Thunder...? Join Us!
10-20-16
The Lab is empty... No Pumpkins to be found, anywhere... Hmmm. It's most peculiar...
The -- well, THING, on the Haybale Slab just lies there, pulsing, under the rusty lantern-light flickering in the soft, sad wind... It's alive..., to be sure... But -- will IT LIVE...?
Everything's connected, sizzeling, bubbling, flickering... Waiting... Unattended... Why would The Pumpkins just -- wander away...? Not like them with a big job to do... (They'd better show up back in The Lab soon, or there'll be Hell-to-pay around here. Lumpy Crumpkin starts baking pies if he doesn't meet his "Quota"...) Why are all The Pumpkins gone, and where could they have gone to...?
Funny, but something similar happened in The Patch, with our Good Fiend Jason Croft, Java, of Java's Bachelor Pad -- Once Upon a Halloween Radio Show...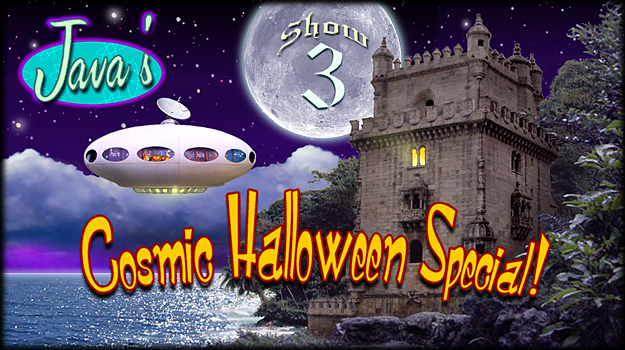 Have Fun! We'll keep looking for The Pumpkins, in case any more, um, -- "Bits and Pieces" -- come in for What's-On-The-Slab...
10-22-16
Still not much going on in The Lab at the moment... It's creepy..., here we are, our Campaign Video racking-up over 9,000 views (and a better than 10-to-1 favorable ratio, at present), in just the past week since it was posted, and yet -- where is Everybody? It's not only The Pumpkins that are no-shows, but, well..., what about all those Good Fiends out there -- who've told us they want to see "The Crumpkin's Pumpkins Halloween Special"...?
Will any more Brave and Perspicacious Backers come forth to zap-some-pulse-sustaining "mojo" into the excitedly-quivering Bits on the Haybale Slab here..?
Any more than, say, 4, out of the 9,000 who've just watched the Campaign Video, plus the almost 3 million who've seen "The Pumpkin Song"...? 'Lotta folks tell us they like that one, too. Maybe there's a Soul out there who fancied "The Herb Garden", and thinks we're ready and able to conjure-up a pretty good Halloween movie here in The Patch... ('Could it be this is some kind of a "glitch" -- y'know, like in some horror movies where the phone wire is down somewhere... Like the cemetery...)
We'd love to hear from you, and we're sure you're Out There... And we do think a good many of you want us to do this project. But for those who wonder whether our Pumpkin Patch's pitch is 'Really Sincere' -- we'll say whatever funds we can attract during this Campaign will stay in 'Lumpy Crumpkin's Little Tin Cashbox' until the Campaign concludes.
Depending on how well we do by then, we'll ask all our Good Fiends who've contributed to Contact Us with their wishes about what we should do with what we've raised. Put the funds into improving the Crumpkin's Pumpkins website, or hold them in escrow until we can match them with another Campaign to complete our movie's budget.
If we raise what we need, we'll make the Movie, get everybody their Perks, pay the Campaign costs, and have our Halloween Special lurching out of The Lab and on to big and little screens in the dark, to become an annual Favorite Treat! If we don't this time, we'll try again, until we do! :D
(See more specifics about this here, sometime after Thanksgiving next month. Meanwhile, there's still plenty of time to make this Indiegogo Campaign a success, so -- On We Go...!)
Oh, by the way, it turns out that The Pumpkins (while AWOL from The Lab at the moment), have been putting up the New Signpost for --

http://www.crumpkinspumpkins.com/theolddarkstone.htm
-- a new video Treat on the Crumpkin's Pumpkins website...
Drop us a line at The Patch Mailbox (http://www.crumpkinspumpkins.com/contact.htm)
-- and let us know if you like it. We'd love to hear from You. All of You! ;)
10-26-16
HALF-A-SCARE BACKERS Downloads Gallery Opens Today! --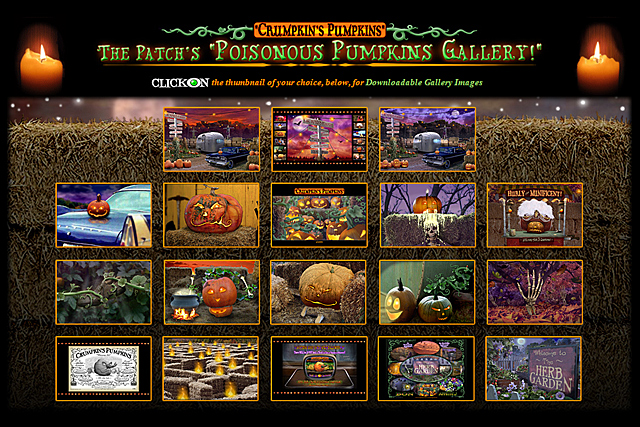 Campaign Backers at the HALF-A-SCARE Level are welcome to please Contact Us at --
~ The Patch Mailbox ~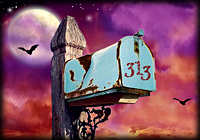 (http://www.crumpkinspumpkins.com/contact.htm)
-- to receive Their Secret Link to "The Patch's Poisonous Pumpkins Gallery"...!
UPDATE TO THIS UPDATE: Gallery Openings being what they are, The Pumpkins will be "indisposed" for a short while, whilest they recoup from their labors.
They won't lay fallow for long, though... Halloween FAST approaches, and The Patch will be Hiring...
(Backers and Potential Backers are strongly cautioned, whatever their current pressing circumstances. to NOT, not ever, not ever apply for employment at The Patch. Ever. Just sayin'.)
ps - If you want to help us get our Movie off the ground, that's great. But don't really, ever, you know..., apply at The Patch... Ever...
(pps - The Curious may return in mid-November, for unblinkered elucidation pertaining to the aforsaid Caution. cc: Just Sayin' )
(ppps - 'Wondering what the "1 FULL SCARE" Perk Package looks like....? Like this --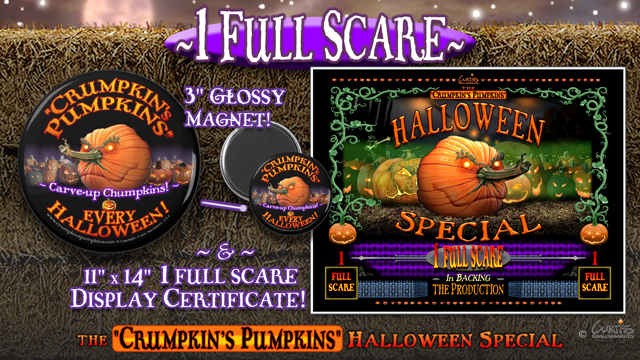 So now you know. ) Next Update will be close a-stem, um, so-to-speak...
10-28-16
Well, it's that Time of Year again..., and of course, The Patch is Hiring...!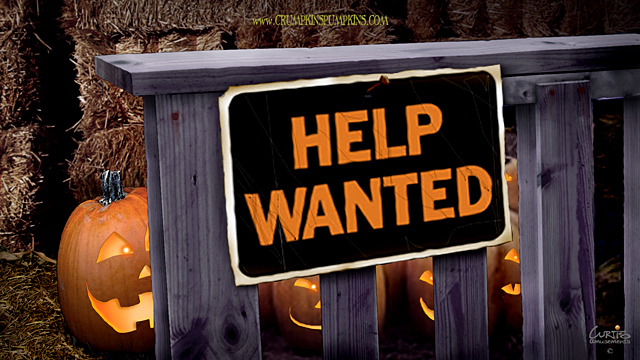 heh.
Or, if you've just come to pick a pumpkin this Halloween weekend, by all means --
Welcome, Friends! Come stroll about! (And good luck finding your way out...!)
Be sure to check out our "Pumpkin Specials"! (All Conditions -- and All Dispositions...!)
Next Update Halloween Eve -- when our prognosticating pumpkin, Hurly-the-Munificent, predicts "something red hot" will smack The Patch...
10-30-16
HAPPY HALLOWEEN
from "The Regulars" (& "Recent Arrivals") in The Patch...!
And something indeed has augered-in here -- bringing along a wicked-fun radio romp, with Jason Croft, Java, of Java's Bachelor Pad, this one especially appropriate for the occaision --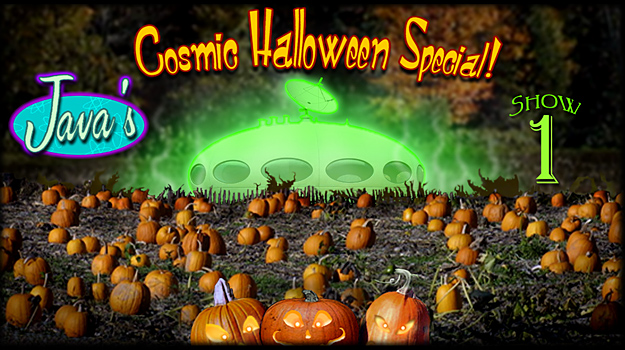 It's entertanment from out-of-this-world Gourds, for out-of-their-gourds Earthlings!
Show Highlights:
01:40 - Java's Pad launches from YoYo Island for Crumpkin's Pumpkin Patch.
09:29 - "Man from Mars"
11:47 - UFO Incident and Fighter Scramble.
17:35 - "My Son, The Vampire" (for Allan Sherman fans).
24:00 - George & Byron, on foot; The Pad "touches-down" at The Patch.
38:20 - News & Police arrive on The Scene; The Pad opens / Panic Ensues / "The Java Wave" is released.
52:20 - The Military moves in; Java goes pumpkin-picking...; The Pumpkins Attack!
1:13:47 - Professor Van Orson arrives; General Tremayne pours-in-on; The Route of Humanity?
Have Fun! The Pumpkins will be back in The Lab here soon, but right now, they've got their "Annual Quota" to fill, and this is a very busy date for them...!
If you're smart, you won't come within a mile of this place 'til November.
Happy Halloween!
11-3-16
Well, our Crowdfunding Campaign over at Indiegogo lives on -- so to speak -- past Halloween 2016, with The Pumpkins at last returning to The Lab, here in the rotting old Greenhouse out among The Patch's gloomier regions... Here's what they've got put together so far --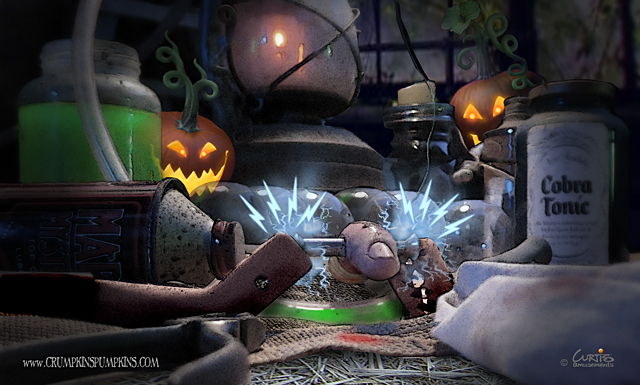 Eeek! I mean, really... Okay, whatever, it's a start anyway...
Badger calls it "FRANKEN-PINKIE", and it's clear that our Indiegogo Campaign still has a lot farther to go here...
Fortunately, The Pumpkins made their "Quota" at The Patch this year ( -- yet another 'Sad Sack' no one will miss; it seems he also had a shocking moment, near The Patch's leaky hose and loose live-wire)... So the odds are ol' Lumpy Crumpkin won't turn his Ghoulish Gourds into pies this time around. Unless of course they don't hit their Funding Goal for "The Crumpkin's Pumpkins Halloween Special" during this Campaign. Then Lumpy gets the knife out...
But there's still plenty of time yet to Add Some Life to THE THING ON THE HAYBALE SLAB here in The Lab, so keep an eye out (eeewww), or, chip-one-in (Huzzah!) to watch our Campaign's truly SHOCKING progress...!
More "Live Wires" are Welcome anytime...!
ps -- You can also view this Update, and our Campaign's Update History, on the Indiegogo website.
11-07-16
ELECTION EVE! - Here's The Patch's Ticket --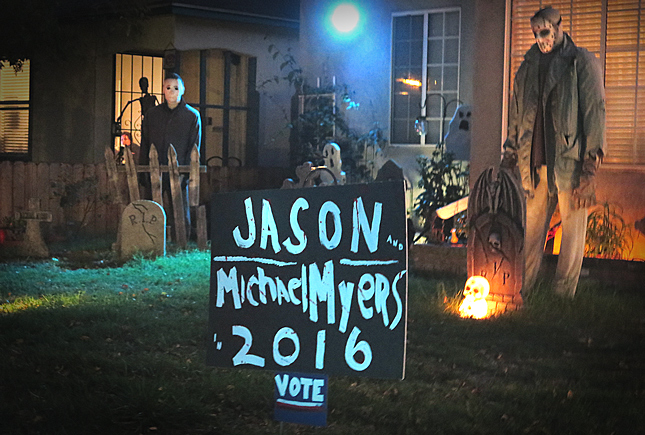 -- But we'd caution against actually voting for these "Candidates" recently seen stumping in suburbia this past Halloween Weekend -- 'cause, well..., um... Huh. Come to think of it, at least these guys have stamina and know how to get the job done..., so... Hmmmm, they might make pretty good Write-In Candidates at that!
No work in The Lab tomorrow, as Lumpy always gives The Pumpkins the time off on Election Day to heckle the TV coverage in his Trailer... Lumpy considers watching the elections essential training for his nasty little platoon of Poisonous Pumpkins, as he is determined to cultivate their evil tendencies to the keenest extent possible...
And speaking of Candidates, let us briefly flashback to "The Crumpkin's Pumpkins' Pumpkin Pie Cart's" appearance at last Spring's MonsterPalooza 2016 in Pasadena, California -- where we got "a glimpse of the field" in April ( and it hasn't looked any too much prettier since! ) --
-- Bernie dropped out, of course, which was too bad, because of all the Campaigns running, The Pumpkins thought his had the best legs (and also, well..., no matter, 'cause he dropped out then, didn't he?)... We think we'll stick with the Write-Ins!
More "Pie Cart" Pics (from Midsummer Scream & SON of MonsterPalooza 2016!) online at Crumpkin's Pumpkins soon , as The Pumpkins rally to do a little post-Halloween catch-up...!
ps -- You can also view this Update, and our Campaign's Update History, on the Indiegogo website.
11-11-16
WEIRD...
That's what Cyrano calls it (but then he likes any excuse to use the word). But it is truly WEIRD... Our Promo Video for "The Crumpkin's Pumpkins Halloween Special" --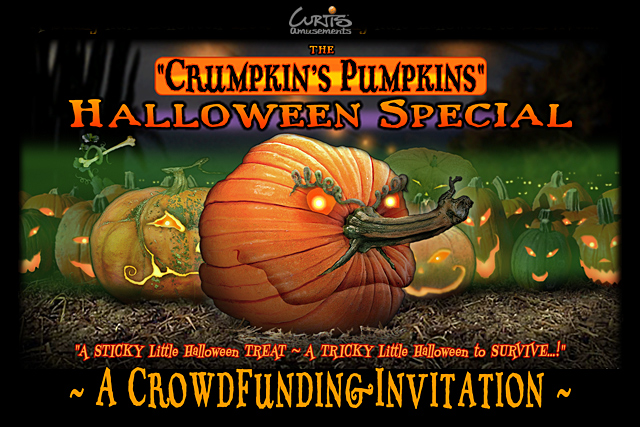 -- has topped 20,000 views in the past 3 1/2 weeks on YouTube!, with an 80%+ approval rating! It's fantastic! Only -- it seems that, except for our Brave and Perspicacious First Backers from Campaign Day One -- Nobody Else wants to help us make this Movie...(?) Or even say "Hello" anymore...? Our Pitch Video's Comments seem to have, um, stopped coming in, like totally, the very day after we launched our Indiegogo Campaign. WEIRD, is what.
Especially after our website and videos have previously received so many wonderful and excited Comments (some of which we proudly quote in our Promo Video) from so many of our Good Fiends across the country, and even from around the world...!
20,000+ views -- And now -- ? (Cue CRICKETS...)
W-E-I-R-D-S-V-I-L-L-E, friends... (Uh-oh... Now little Scabby's started crying again...)
But! -- The Pumpkins have put some of their finest minds, um -- pulp -- onto the problem, and Ol' Splitskin thinks he's figured it out -- ZOMBIES! Yikes! Somehow, all ( - or a good 80% at least - ) of the "CPHS" Promo Video's Viewers -- have been suddenly turned into ZOMBIES...
(Cue CREEPY ORGAN CHORD...)
They may be out there watching, but the keyboard-thing is beyond their half-rigor-mortised fingers. (We suspect Something Hideous from that Martian Meteor may be behind it, but we're still investigating...) Ghastly..., perfectly ghastly really, if it's true...
And, since it seems we're dealing with some kind of Weird Zombification, it could be possible this weirdness is directly unrelated to another of our Triple-Terror of Spine-Ticking Halloween Radio Specials --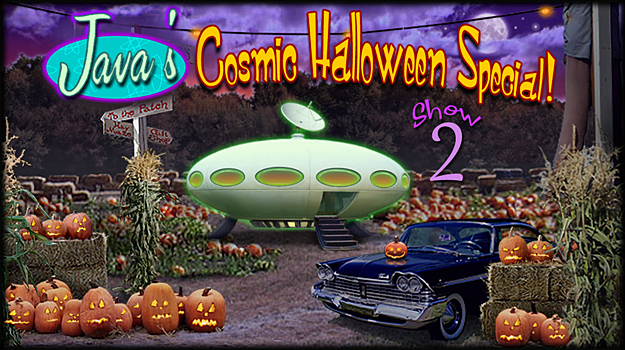 -- SHOW #2 is a Zombie-Packed, Hot-Rod Racin', Robot-On-The-Loose romp with plenty of great Halloween tunes, as Jason Croft, Java, of Java's Bachelor Pad, goes on 'Pumpkin Safari' at The Patch...!
We'd like to listen in too, but in addition to Zombie problems, it seems The Pumpkins also have GREMLINS to put up with as well! -- who have been disappearing the Patch Admin's Profile Info and disabling our Campaign's Credit Card acceptance feature since our launch! Did we say Yikes?! Yikes! How's that for WEIRD, huh? That went on for almost three weeks, and right through Halloween Weekend, too... Yikes.
And -- it turns out someone hacked our emails and arranged to take down our popular "Crumpkin's Pumpkins' Pumpkin Song" -- the very day we launched our Indiegogo Campaign! (A touch of Pumpkin Envy...?) Yikes, already.
But, fortunately, those problems, or some of them, seem to have been fixed at last, so we're in the clear to really run the best Halloween Movie Campaign we can now. Whew!
Stay with us, "The Ripening" is sure to get "riper" as the Season wanes...
ps -- You can also view this Update, and our Campaign's Update History, on the Indiegogo website.
11-16-16
Our INDIEGOGO CAMPAIGN'S HALF-WAY MARK!
And with most-if-not-all of our Campaign's initial difficulties* solved at last, we're lurching into our Second and Final Month of The Pumpkins' attempt to fund their "Halloween Special" in time for 2017 or 2018...
But, with The Lab's nursery-wagon hobbled-out-the-gate on this one, it looks like The Pumpkins are pretty much all doomed to the Pie-Tin (if you know what we mean), if things don't pick up some. Believe me, the activity is really intense in The Lab, though things look rather grim. That's okay, 'turns out the little cucurbitaceous monsters enjoy grim. Still, as far as how our Halloween Special Movie's Indiegogo Campaign fares, the Funding Goal Achievement at this point is, well..., grim.
Fortunately there's a New Witch who's moved into the area (bringing her cozy old cat-filled Victorian cottage along with her), not too far beyond The Patch's edge --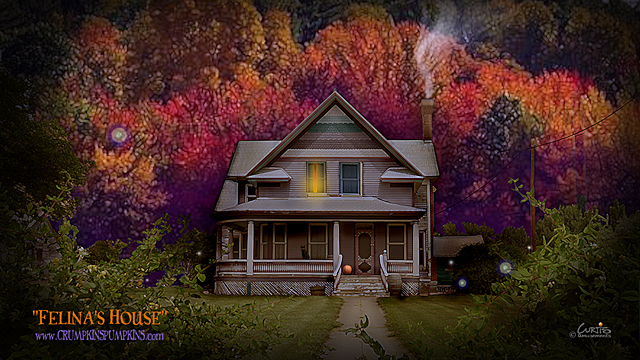 -- Just the other side of The Ravine where that Martian Meteor hit this past Halloween! -- speaking of which happens to pass by one of the few alternate routes of successful escape from our (not)delightful Patch Hay Maze --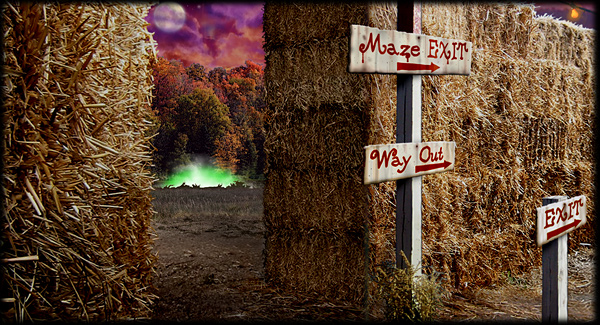 And Felina (that's the Witch's name), will be working-up a little (or, large) "De-Zombification Spell", she tells us, which could really help, depending on how bad the whole Zombie-Problem-Thing actually is. She's a Good Witch (sometimes), so maybe she can come up with a Glenda-Kind-Of-Thing that will take the torpor off the Tally out there, before the snow begins to fall...
Check in again soon, as we Update "FRANKEN-PINKIE's" poignant present progress -- will there be any measureable signs of growth, beyond the shock of Campaign Day One...? Eeek.
Next time in --

* ps -- To those who may have found "The Crumpkin's Pumpkins' Pumpkin Song" MP3 download missing or unavailable this Halloween, on ITunes, Amazon, and/or other online music shops where it's been available for several years now: it turns out it wasn't our TuneCore account that was hacked, but our office emails, by someone who "arranged" to remove "The Pumpkin Song" MP3 from all the shops we were in, worldwide, right before Halloween this year. Nice.
We weren't even aware the song had been taken down until we contacted TuneCore on a related matter late last week. TuneCore has been very responsive and supportive to the best extent they can. But the damage is done, the song has lost all its history and distribution data, and we will have to start all over again with both. But fear not (or, as The Pumpkins would prefer it, fear)-- we will have "The Pumpkin Song" back up on Amazon, ITunes, (and all the other shops we once were in), by next Halloween Season! :)
pps -- You can also view this Update, and our Campaign's Update History, on the Indiegogo website.
11-20-16
"FRANKEN-PINKIE UPDATE"
This Update is posted to Update "FRANKEN-PINKIE's" Update, and so we shall, BUT FIRST-- BREAKING NEWS THIS WEEK -- !
"The Crumpkin's Pumpkins' Pumpkin Song" Original Version
hits 3 MILLION VIEWS on YouTube...! --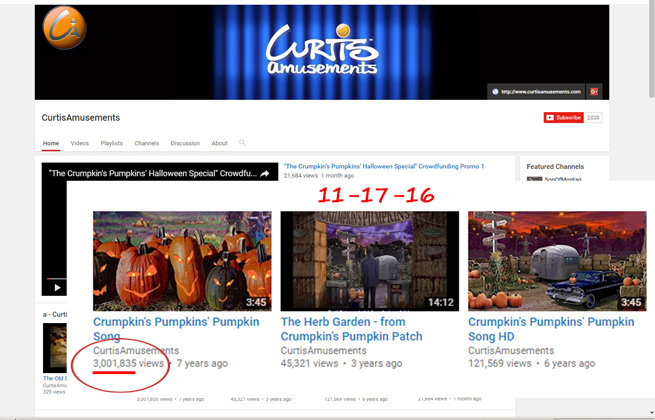 The Little Monsters have really been singing their seeds out for a few Halloweens now, and they want to Thank Everybody who has watched "The P-Song" Video, especially those who've told us we're an annual Halloween favorite...! Your views and comments are highly valued; Thanks Again for watching!
Meanwhile, back in The Lab, "FRANKEN-PINKIE's" still in a pickle, with only a trickle of juice in the Jar so far..., and yet --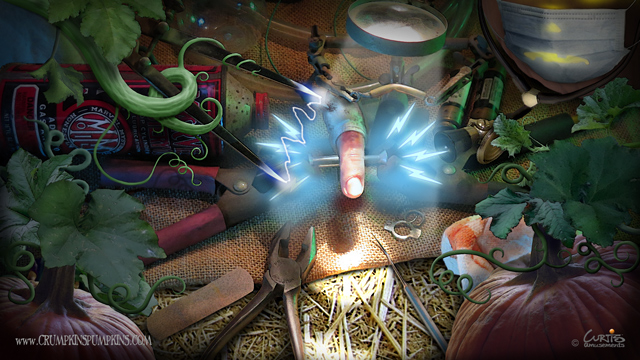 -- It seems that with "The Pumpkin Song" reaching 3 Million Views, "FRANKEN-PINKIE" has achieved (for the first time since our Indiegogo Campaign's Day One) -- Measureable Growth...!
Although it's hardly more than a cocktail-weenie, really... Alive, true -- yet weirdly isolated from our As-Yet-Still-Zombiefied Good Fiends out there Who, before we started this Campaign, once-upon-a-time, left very nice Comments on our YouTube Channel, and who have signed lots of "Crumpkin's Pumpkins' Pumpkin Pie Cart" Surveys at our many different Convention appearances, enthusiastically telling us they want to see us make our "Halloween Special"...(!)
Now, they are -- ALL -- shockingly silent... The horror..., the horror..., plus -- Wartso spilled the ketchup (and that was the last of it)... Eeek.
Next "Ripening" -- A Thanksgiving Treat from The Patch!
ps -- You can also view this Update, and our Campaign's Update History, on the Indiegogo website.
11-23-16
HAPPY THANKSGIVING from The Patch! We're serving-up a little "Autumnal Appetizer" for those Good Fiends out there who are following along with our uncannily-undernourished "Halloween Special's" Crowdfunding Campaign --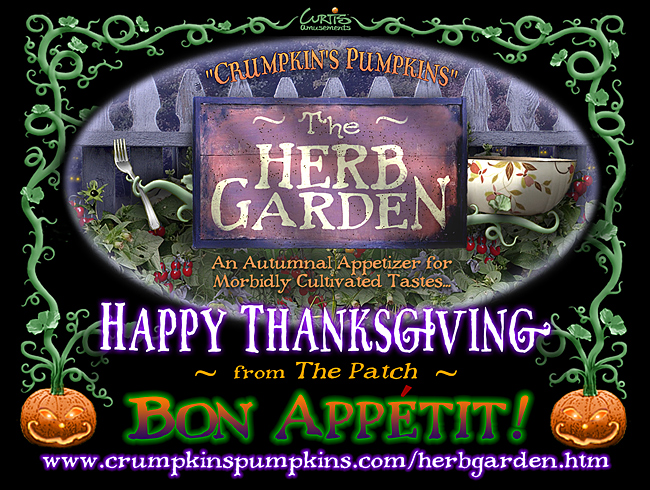 -- offered here with a pinch of nerve and a dash of sauce. ;)
And here's another little Seasonal Treat! The Patch Gift Shop's own "Punished Pumpkin Pie" Recipe --
Even though they met The Patch's "Quota" this year, The Pumpkins still have their stems-on-the-line, so to speak, where this Campaign's success is concerned. Are they starting to sweat a little out in The Lab...? You bet they are...
heh...
Check back in (in a tryptophanic-stupor) after your Hopefully Horribly Happy Thanksgiving Feastings, when "The Ripening" looks into -- 'What To Do With The Left-Overs...?' -- the last Update this November in our frighteningly-participation-free Indiegogo Campaig
n...!
11-28-16
'WHAT TO DO WITH THE LEFT-OVERS?'
The Pumpkins generally enjoy putting their Victims in a stew, so to speak, and wicked old Lumpy Crumpkin has cooked-up more than one creative way to purge The Patch of its Infernally-bound, former Hired Help this past Halloween --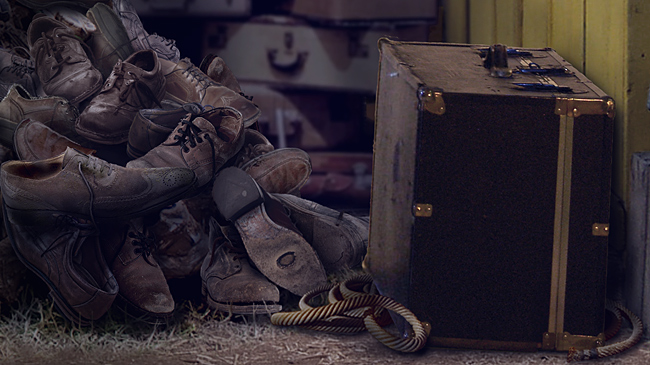 -- But even while The Patch's Trailer grimly flickers and steams in the chill Autumn evening, and Lumpy's Recipe Book turns another dog-eared (and we don't mean dog) page..., Some Other Great And Evil Presence is looming far-afield...
Something huge, and growing..., Something with sinister strangling tentacles, spreading fast and wide in the dark... Something so foul, and furtive, and increasingly, colossally crushing, that even Seasoned Fiends would fain faint, (were they faint of heart, as it were), in its relentlessly insidious, hateful grasp...
Something with a devouring appetite that will stop at nothing to sate its evil gluttony -- Gobble, gobble... Gobbling-up everything... Gobble, gobble... Gobbling-up everyone... Something that seems to have come from, no kidding -- Outer Space...
It is -- "The Grand Cucurbita"...! And its' evil, reeking tentacle-vines are fast filling up Ravens' Ravine, where that Meteor hit not so long ago... Eeek.
Meanwhile -- our Indiegogo Campaign's Surprise Tribute to America's fearless, flightless native bird hobbles forward on its last drumstick...
Fun Facts about the Wild American Turkey -- they're hell to tangle with, and fight like Furies if threatened or endangered by ill-intentioned entities of whatever ilk. And nobody who's ever had a wild turkey land on them has ever not regretted the blunder of exciting one to defensive action... Ah, Dame Nature -- She does have Her ways, doesn't She...?
Next "Ripening" -- A Salute to 'The Ghost of Meritocracy' (the fourth Spirit that Marley was going to send to Scrooge, if the old ruiner hadn't finally come 'round by #3), who, unlike the turkey, has more in store than just a wing and a prayer. ;)
12-3-16
"THE MOST WONDERFUL TIME OF THE YEAR...!"
...As we "officially" bid Farewell to the Halloween Season of 2016 -- a 'Season of Wonders' [*] to us indeed, with our "Crumpkin's Pumpkins Halloween Special's" Promo Video now racking-up over 25,000 views (!) on YouTube since we launched our Indiegogo Campaign. The Pumpkins say "Thanks" to those Viewers who have given us an 80% approval rating, and made this one of the most popular videos we've uploaded on YT to date! :D
And speaking of 'wonders', our Good Fiend Shari Mendez has a wickedly-wonderful way of creating her own, whether she's situating her whimsically sinister "Little Graveyards" in Sleepy-Hollow-esque Antique Lanterns --

-- or eerily-atmospheric Pumpkin Dioramas --

-- and we wanted to share a glimpse of her creepy-cool creations with the thought of stimulating the crafty creativity of those Special Fiends of ours out there who think that making gifts can be fun, even for those 'Other' Holidays...
BTW, two of The Lab's Pumpkins (shown here) were, um, "volunteered" for this creative demonstration, (quite effective on morale, you can bet)...
[*] Meanwhile, we're 'Wondering', alright..., why -- wondrously -- not a single coherent sentence has been posted among our YT Comments after the First Day we launched (indeed, all Comments have evidently stopped on all of our videos at YouTube, and we certainly did previously get Comments -- our Promo Video's got plenty of 'em) -- And -- by some further-wondrous, near-simultaneous coincidence -- not a single new Backer has contributed to our Campaign since Day Two... No Comments -- and not even a "Half-A-Scare's" 'goodwill' backing from anybody out there... (Cue LOW THUNDER)
So it seems that 'Zombification'-Tactics, Spirit-smothering Tentacled Monsters, Pepper's-Ghostly Data Appearances, and a definitely-quantifiable Chill-in-General is evidently what we've attracted..., when all we wanted to do (at first) was put on a silly Halloween show. This ongoing Campaign is definitely proving instructional though, and will inspire a good deal of review and analysis, before (and beyond) its impending conclusion this mid-December. Eeek.
NEXT UP for "The Ripening" -- "What 'Future Topics' might we consider, which may fare better on Indiegogo?" Many 'Tales of Terror-and-Wonder' are yet to be told, eh...? (Perhaps we should be thinking about developing new Projects on the Horror-Documentary-side?)
What do our Good Fiends out there think? We'd love to hear from you, via our Patch Mailbox -- http://www.crumpkinspumpkins.com/contact.htm ('Coherent sentence' allowances will be made for bone-fide Zombies.)
12-07-16
NEARLY (IN)FAMOUS, but Timing Is Everything...
The Pumpkins stoically remain at their posts in The Lab as the clock ticks-down our last ten days, the ongoing account of their apparently futile efforts mercifully soon to be embalmed in The Patch Archives, where our "Crumpkin's Pumpkins Halloween Special's" premiere Crowdfunding Campaign may yet make for morbidly-amusing (and instructive) perusals on the cold nights ahead...
Thusfar, it must be said that we haven't managed to "revive" any of our 25,000+ "CPHS" Promo Video's, um, WEIRDLY 'Zombie-fied' Viewers out there, to see if they'll express any sort of backing for our Campaign, not even to 'Wish us Well' (or Ill, for that matter), on YouTube, or here at Indiegogo. Hmmm...
Still, if any poor Comment-challenged Souls out there who have been following this Campaign's progress wish to Make Contact, we (that is to say, The Pumpkins, the Patch Admin, the Patch Scarecrows, this Project's Producers, hell, even the crickets at this point) would of course Welcome Hearing from You, via The Patch Mailbox -- http://www.crumpkinspumpkins.com/contact.htm -- if typing Coherent Sentences is possible for you (and as previously stated, we do make "Coherent Sentence" allowances for bona-fide Zombies).
And so, in a far-from-anemic post-Halloween-Season-vein (heh...), we give our once-lively, now ghastly-mute Good Fiends a sympathetic Salute, with a reprise of our unquestionably Zombie-tastic, Third"Java's Halloween Special" --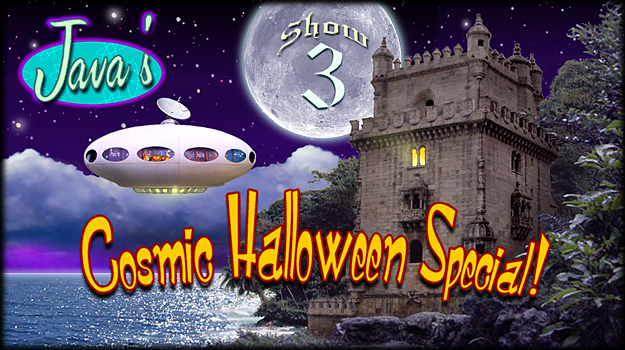 ( -- Rumor has it there's a "Java's Cosmic Christmas Show" in the works for the 2017 Holidays -- check in next year at Curtis Amusements -- www.curtisamusements.com -- for Future Developments! )
NEXT, as "The Ripening" really ripens -- "(ALMOST) ONCE AND (POSSIBLY) FUTURE PERKS" -- A glimpse at one of our Could-Have-Been -- or -- Perhaps-Yet-To-Come Perks, in 3-D...! Oooo...
12-10-16
(ALMOST) ONCE AND (POSSIBLY) FUTURE PERKS...
"By My Prickly, Long-Stemmed Nose..., Something Wicked This Way Grows...!"
This darkly-delightful "Cyrano-the-Pumpkin" Maquette (our Prototype wonderfully-well-sculpted by Eric Haskell) was intended to be the titular-temptation in our Indiegogo Campaign's "PUMPKIN-MAQUETTE MADNESS!" Perk (along with other Perk Package "Treats" * ) --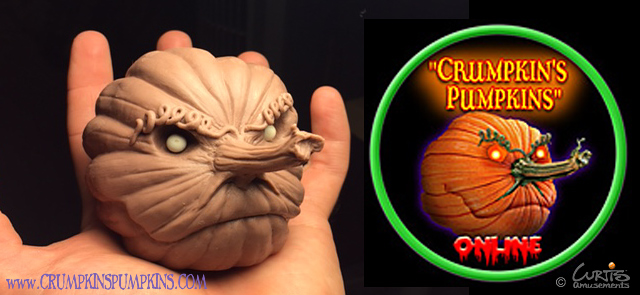 -- But alas, it doesn't look like the little guy will be under anybody's tree this year...
He will however be featured as a future Backer Incentive in our next Crowdfunding Campaign (When & Where TBA), as part of a wicked-fun Collectible Set, planned to include other Crumpkin's Pumpkins Characters(!). We may yet successfully Crowdfund a production in 2017, for a Halloween 2018 or '19 Release, and if we do, we'll include a Limited Run of these irresistible little Ghoulish Gourds. Want one...?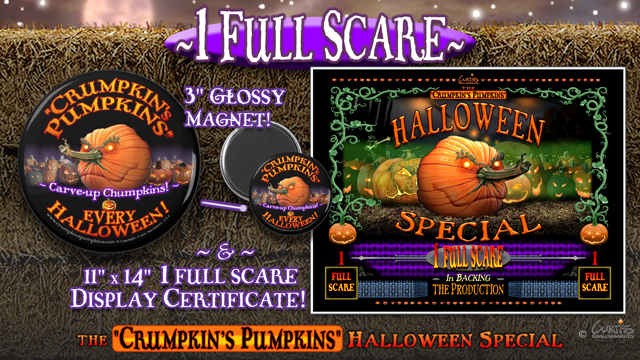 Also reprised above, our Basic "1 FULL SCARE" Backer Perk, meant to be the 'backbone' of our Campaign's horrifically-spineless showing here (Eeek!); still a nice Perk for true "Crumpkin's Pumpkins" Fans (who tend to enjoy morbid humor), and will make nice collectors' items, as mementos of our first crowdfunding endeavor...
Look for these Treats (again), and more (hopefully) irresistible New Perks, when we launch our next "Crumpkin's Pumpkins Halloween Special" Crowdfunding Campaign, in early Fall 2017...
( * This Perk's stated availability was contingent on our Project's completion, as Autographed Collectible BlueRay/DVD Discs were also intended to be part of this Campaign Incentive.)
NEXT-TO-LAST "Ripening" -- The Lantern Stays Lit out in The Lab, despite the cumulative WEIRDNESS APLENTY ('turns out The Pumpkins like Weirdness Aplenty), and desperate measures seem to be called for..., so it's been decided to send another good High-Voltage JOLT through "FRANKEN-PINKIE" (and yeah, they like doing that too, the little fiends), which is sure to have some effect...
12-12-16
THE LANTERN STAYS LIT...
... 'Round-the-clock now out in The Lab, as our CREEPY-CRAWLY (Mostly-Very-Very-CRAWLY) Crowdfunding Campaign enters its final Countdown to (merciful?) oblivion, this 2016 go-go-around with Indiegogo...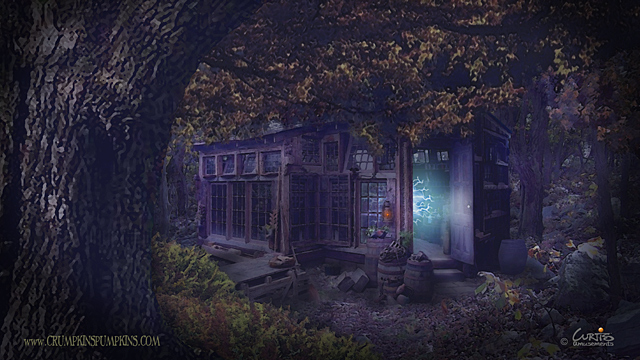 All Stems are turned to the task --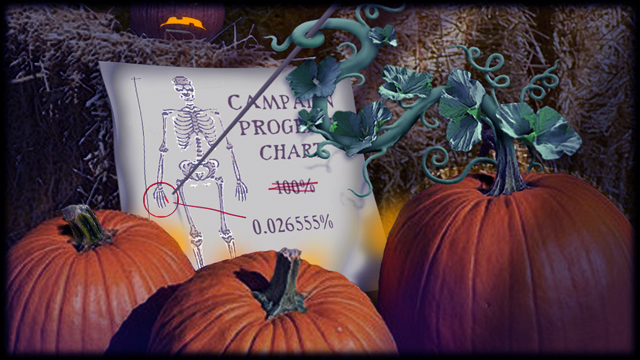 -- but the outcome indeed looks dire...
It must be admitted -- the SILENCE has been DEAFENING. Aside from our handful (literally) of Brave and Perspicacious First Backers -- No One On Earth (Cue LOW THUNDER) has either recognizably Commented, or minimally Contributed, to our Campaign since it launched.
And yet -- our Promo Video's views keep climbing...(now-over 27,000+ views!) --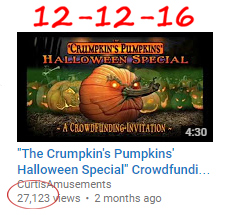 -- Without any relevant Comments? Without any new Backers out of thouse many Viewers who've watched and liked our Promo...?
Not to mention -- okay, we will mention -- that "The Crumpkin's Pumpkins' Pumpkin Song" has added an additional 70,000+ views on YT -- on top of the 3 Million Views we reached just one month ago (!) --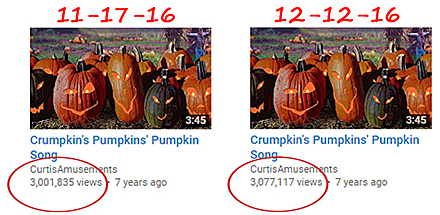 This seems odd. So you can believe we'll be working on figuring out how to do a better job of actually connecting with the Really Huge Audience we feel is out there, who even yet may want to see "The Crumpkin's Pumpkins Halloween Special", one of these Halloweens-Yet-To-Come...
Was our Funding Goal too high for a Crowdfunding Campaign -- ? We don't think so.
The 46-page Budget for this Project compensates -- after Taxes and Crowdfunding Admin/ Processing/Bank Fees off the top -- Professional Hollywood Union and Guild Talent at realistic rates ATL, quality Craftspeople and Materials BTL (plus Guild / Union fees), competent and creative Post-Production, plus a strategic contingency for promotional expenses and related website synergistics.
Our Budget's Top Sheets will confirm their validity as a viable TMZ "low-budget" movie proposal.
Non-Union/Guild shows are not restricted to addressing the concerns of signatory production. But their Talent and Crews are, in general, not rewarded as well as DGA/SAG/WGA/IATSE Talent, and we felt that if our Good Fiends out there wanted the best Creative People we could attract to this fun show, we'd go get 'em. We still think we will, next time.
Meanwhile -- Was that the sound of a grindstone, heard near sundown, scraping-away out behind Lumpy's hoary old trailer...?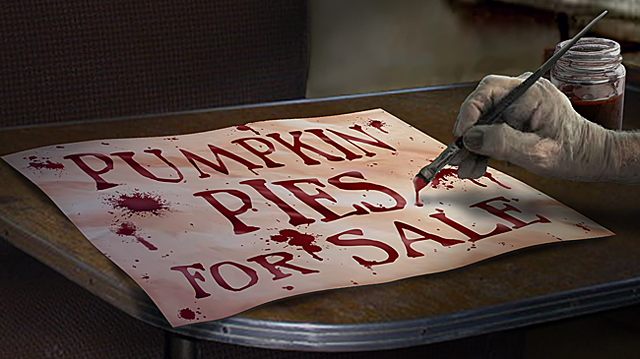 Hmmm...
NEXT-AND-FINAL "Ripening" --"AN EARLY FROST COMES TO THE PATCH" -- (Could it actually have descended from Day Two...?)
12-15&16-2016
AN EARLY FROST HAS COME TO THE PATCH...
It actually seems to have surreptitiously-descended from Day Two-onward of our Indiegogo Campaign this past mid-October (although we didn't know that it was happening at first...), and so perhaps our "Crumpkin's Pumpkins Halloween Special" was ill-fated even from the start. Hmmm. Maybe our Project should have been "Pumpkins On Ice"...?
Little "FRANKEN-PINKIE" actually did put on a brief, hopeful growth-spurt, when "The Crumpkin's Pumpkins' Pumpkin Song" hit 3 Million views on YT during our Campaign, (adding another 70,000+ views since then!) --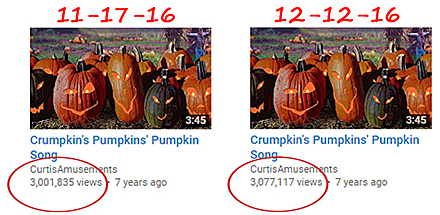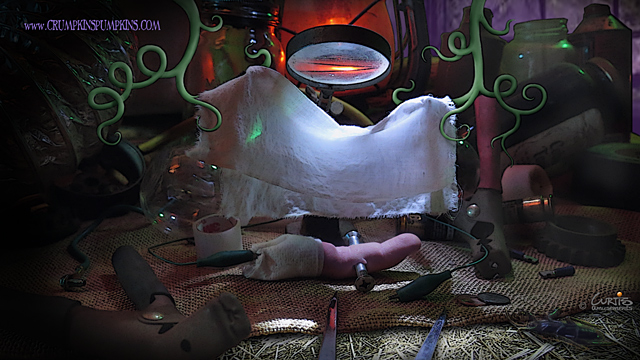 -- And so ripened, briefly-but-resolutely, into --"FRANKEN-FINGER" (we don't know if it's a leftie or a righty, so we're pretty sure it's somewhere in the middle...). We lay him to rest here in Final Salute to our genuinely optimistic (and, as anyone who's ever drafted a Hollywood Guild/Union-Signatory film budget will know, pragmatic) Indiegogo Crowdfunding Campaign.
Meanwhile -- Examples must be made, yes...?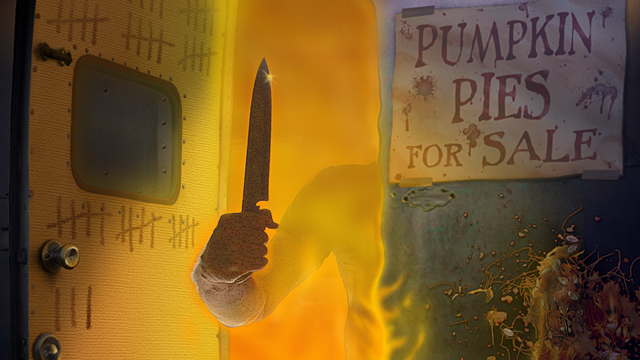 Crumpkin's PUMPKIN PIES, though often rare, are very popular with the Locals down at The Village, and they'll Be Seeing them soon...
Will there yet be a "Crumpkin's Pumpkins Halloween Special"...? Hey, in a free country, anything's possible, right? Autumn will return, and by next Halloween the ice will melt -- or maybe our Good Fiends will help us break through it. :D
And so we say Farewell. We endeavored to put together The-Best-First-Crowdfunding-Campaign we could, this time out, and we're proud of its objective, if not its apparent success. We'll hope to do a better job next time, for the Fans we believe are still out there...
Look for "The Crumpkin's Pumpkins' Pumpkin Pie Cart" to re-materialize in Pasadena, CA next April, for MonsterPalooza 2017 --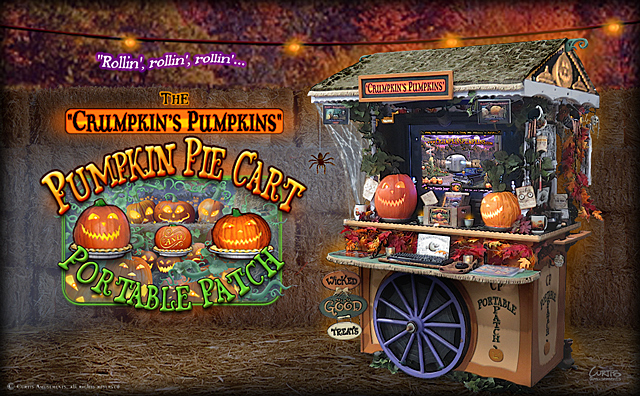 -- where The Pumpkins will be meeting more of our Good Fiends -- and begin growing vines anew for our next "CPHS" Crowdfunding Campaign...!
(Perhaps by then the strangling tentacles of The Grand Cucurbita will be exposed, and, hopefully, severed. Who knows? Felina's "de-zombification" Spell may ultimately prevail...)
If you've tried to Contribute to this Campaign and been unable to for any reason, let us know! (Ditto, if your Comments about our "Halloween Special" Promotional Video and/or Indiegogo Campaign also have not appeared on YouTube.) Make Contact, via our Patch Mailbox link --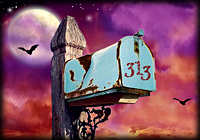 http://www.crumpkinspumpkins.com/contact.htm
Thanks for looking in, and PLEASE EXIT THROUGH THE GIFT SHOP...