OUR CLOSING KICKSTARTER CAMPAIGN COMMENTS, 11-20-17:
Well, we're about to reach our Kickstarter Campaign's Last Day -- and -- What's This -- ?
BREAKING NEWS!: Our campaign at Kickstarter has been "Prematurely Terminated" -- 24 Hours ahead of Schedule(!). No reason given.
Our records date our Campaign's Launch at 2:56pm, October 21st, to be concluded in 60 days, on November 21st. Our local clock and calendar show time and date as of the start of this comment's drafting, is 2:15 pm, Pacific / 5:15pm, Eastern, November the 20th. We've been closed-out over a full day early.
(We might also publically note, and we have the records, how difficult Kickstarter made it for us to Launch our campaign here, with several improbable "technical difficulties" repeatedly delaying us. Why? Read on... )
What's going on here? Having brought our second attempt at crowdfunding here to Kickstarter, entrusting a great deal of work and sincere optimism to them, this abrupt 11th-hour Cut-Off casts them in a very poor light -- as either prejudiced toward our particular Project, or, as serving some Others who may wish to see our second crowdfunding campaign D.O.A., almost identically as our first one fared last year, at Indiegogo.
Why? We won't go too deeply into that here, but anyone who knows Johnny Curtis knows that, while he thinks The Pumpkins are fun-and-all, he also has other real concerns about America and our world -- none of which this Project is about, nor have they been mentioned anywhere in this Kickstarter Campaign -- but which may have attracted 'some species of GangStalkers'. Call for help? Call Who? Who to call, when Iago owns the System, and Judas does his bidding?
Shakespeare said, "The Truth Will Out", and so whatever the real harm, creatively and financially, that ideological enemies and skulking betrayers may do to honest, hardworking, Pumpkin-slinging Americans like Johnny (and they have), he knows they can't stop the show forever, even as he regrettably knows "The Fix Is In" for us and our Project, here at Kickstarter.
Okay, is this a 'Grudge' Comment? You may decide that, if you wish. And since we evidently are not allowed to remove our starkly-unsuccessful campaign here at Kickstarter, you're welcome to have a post-mortem look if you like at why we came here seeking the crowdfunding to get our Halloween Comedy Movie Project done, and see how much work we've done to try to make that a reality.
Do we have any real "cause for concern" about the reasons for our titanically-unsuccessful Kickstarter Campaign...? You may agree we do...
Why? Because either our "Crumpkin's Pumpkins Halloween Special" isn't really a very popular idea at all, or, something has gone very wrong for us here at Kickstarter. Perhaps criminally so.
Why would we think this? Because of the many Fans we've heard from -- and have personally met -- over the years, from across America, and other countries around the World, who have enthusiastically and virtually unanimously told us (both in writing and in person, at the many "Halloween-themed" trade shows we've been appearing at these past several years) how much they want to see the movie we want to make for them.
And our Pledges are just so glaringly-few in number (compared to our substantially-provable Fan interest) as to make our "Crumpkin's Pumpkins Halloween Special" not merely "unsuccessful" here at Kickstarter -- but rather grossly-improbably so, we think. What do YOU think? --
THE NUMBERS:
Our increasingly-popular Halloween novelty-tune favorite, "The Crumpkin's Pumpkins' Pumpkin Song" has now added over 1 1/2 MILLION YouTube views -- on top of the THREE MILLION views we had achieved by this time last year, to reach by this writing Over 4 1/2 MILLION views(!).
[ 4,545,689 majority-favorable views for this Comment's record, at 3:51 pm PST, 11/20/17. If you nclude the "HD" version of the song, the talley reaches well over 4,750,000. ]
Plus, in the almost-60-days since it's been posted in concert with our Kickstarter Campaign's October 21st Launch, our "CPHS" Promotional Video has drawn over 30,000 majority-favorable views on YouTube.
We're very proud of these millions of combined views, believe it -- but at our Kickstarter Campaign's suddenly-premature-conclusion we have only 10 Pledges. And with two curious exceptions -- these are from friends or Staff.
As we say, this seems mathematically impossible to us. So we believe we have good reason to suspect that something has indeed gone very wrong for us at Kickstarter, whom we entrusted with a great deal of work, brought there to its ruin. (And FYI, the same thing happened, almost identically, to our Indiegogo Campaign, last Halloween Season as our novelty song hit 3 Million Views during our campaign there -- we closed with less than 10 Backers. Still, one could note that we did twice as well at Kickstarter, ha ha.)
'Whatever' the reason* The Pumpkins have been 'squashed' at Kickstarter, we can say that "The Patch" stays open -- http://crumpkinspumpkins.com -- even while we work to fix Chrome's new Plug-In blocking -- and we're looking forward to meeting new Fans next year, as well as seeing our many Familiar Good Fiends again.
Meanwhile, we'll be reaching out to everybody who personally signed our "Crumpkin's Pumpkins' Pumpkin Pie Cart" Surveys to ask if they tried to contribute to our Kickstarter Campaign, and if so, we'll need to find out why their Pledge didn't show up there...
So that's it for us on Kickstarter. Evidently the "corpse" of our efforts will remain on view at their site, since even a single Pledge puts every campaign on permanent display, like a pinned moth.
We think, as we've said, that something is very wrong there; whether Kickstarter is broken, or just a knife-in-the-back, we don't know yet, we only think it's mathematically impossible to gain millions of mostly-positive Project-related views -- and close with less than a dozen Pledges, almost all of them, as we say, Staff and friends.
So -- Are we glad we brought our Multi-Million-Viewer-Vetted, Real-World Guild/Union-Budgeted Movie Project to Kickstarter? We can certainly tell you, when asked.
It turns out that here at Kickstarter, it's not What your Project's about -- it's about Who they'll knuckle-under to, and what possibly-criminal lengths they'll go to, to toady-all-the way-to lick those boots.
We bought a great Project to Kickstarter which was just about having some silly Halloween fun and laughs, with no other "agenda" in its content other than original comedy. We had hoped to not find them OWNED as well.
As for "Crumpkin's Pumpkins"...? We'll grow back. Look for us Elsewhere, next Halloween Season.
***
Thanks to all the Fans we know are out there. Don't give up on us, we'll try again, Someday, WTWIF.
***
[ NB: We've posted this "Farewell Closing Comment" on our defunct Kicktarter Campaign page (which we evidently cannot close)*, but we're archiving it here also for future reference (as our campaign's premature-closing indicates that other "unexpexted" happenings may occur there). A link will also be in the next "Ripening" Newsletter from The Patch.
NB: As Kickstarter does not allow for Comment any editing once Comments are posted, there will be minor corrections in this Comment as posted here. ]
***
[ * If any of our Viewers reading this have tried to contribute to this crowdfunding campaign and been turned-away, we ask you to please visit 'The Patch's' Contact Page --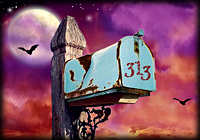 https://crumpkinspumpkins.com/contact.htm
-- and Paste This into the Comments field:
"I TRIED TO PLEDGE to The Crumpkin's Pumpkins Halloween Special's crowdfunding campaign on Kickstarter, and could not because -- "
(Please briefly describe to us why you may have been unable to Pledge here at Kickstarter, e.g., "Technical problem" or "Come Back Later" -- whatever reason you may have been given.)
If you have indeed been turned-away from our Kickstarter Campaign for any reason, this information will be vital to our future efforts, and we will very much appreciate hearing from you personally. Thank You. ]
***