"T
he Pie Cart's"
exterior evening "Dress Rehearsal" took place the night before its MonsterPalooza 2015 debut...
We dressed-in Pumpkin Vines (a couple of hapless Volunteers were of course nearly strangled, but alas they survived...);
We chased out system bugs (they were delicious!);
We popped the cork on a dusty bottle of Chateau du Dandelion, lit up The Cart's "mascot" Pumpkins ("Bud & Lou") --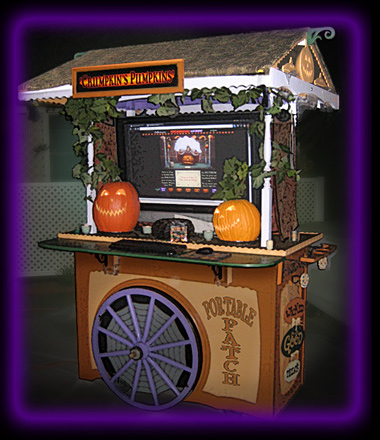 -- And, with a bit of technical wizardry, envoked "The Patch" to appear aboard
"The Crumpkin's Pumpkins' Pumpkin Pie Cart"
for the first time under the stars...!
Guests were invited to navigate The Patch -- Meet the Pumpkins, Have their Fortunes told by Hurley-the-Munificent, and try to get through the Hay Maze alive, among other enticements...